Northside Elementary School - Kindergarten
Pinecreek Elementary School - Grades 1 - 2
Hickory Grove Elementary School - Grades 3 - 6
Elementary Supplies Lists
2 years ago
The lists below contain useful items for each grade level. Parents are welcome to contribute any items from the lists below to their child's grade level. Parents are not required to buy any of the items, and the donation of supplies is completely optional.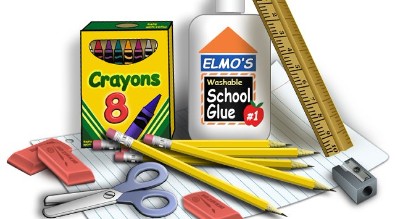 Kindergarten Supply List
Black dry erase markers
Elmers Glue Stick .77 oz
Beveled edge erasers
Crayola 8 pack crayons
Crayola 16 pack crayons
Gallon Ziplock bags
White paper Craft bags
Wooden, clip clothespins
Sandwich bags
White paper plates

Flexible Neon Straws
Aluminum Foil
Clear Vellum
Wax paper
Styrofoam cups
Paper bowls
Jingle bells
Pom poms

Tissues (unscented)
1 Large box of Lucky Charms cereal
1 Large box of Goldfish crackers
Bag of Hershey Hugs
Bag of Hershey Kisses
Nilla Wafers
1 Large box of Corn Pops cereal
Bag of black beans
1 Large can of Crisco
Corn Starch
Cinnamon Sticks

Rolled oats
Large bag of M&Ms
Miniature marshmallows
Mini pretzels

Freeze pops (unfrozen)
Elbow macaroni

Popping corn (unpopped)

Rotini macaroni
Farfalle(bow tie) pasta
1st Grade Supply List
Black dry erase markers
Hand sanitizer
#2 pencils
Stickers

Playdough
Plastic Baggies (sandwich and gallon size)
Erasers
Highlighters

Glue sticks
Post it (large/small)

Smarties
Disinfecting Wipes
2nd Grade Supply List
No. 2 pencils
Pencil tip erasers
Red marking pencil/pen
Crayons
Ruler with centimeters and inches
Glue sticks
Dry erase markers
Homework Folders
Post-It Sticky notes
Highlighters

Writing Tablets
Colored Markers
Colored Pencils

Tissues
Motivational Stickers
3rd Grade Supply List
Pencils
Crayons
Yellow highlighters
Dry erase markers (throughout the year)
Glue sticks
Small bottle of glue
Erasers
Little fiskar scissors
Kleenex
Scratch tablet paper
Post-it notes of all sizes
Large index cards
Small index cards
Kleenex
Red pencils or pens for correcting
Spiral notebooks

Plain pocket folders
Wide ruled paper
4th Grade Supply List
Pencils
Notebooks
Bookmarks
Crayons
Highlighter
Erasers-big & pencil tops
Colored pencils
Hand soap.....sanitizer
Pens
Markers
Glue sticks
Pencil boxes

White board markers
5th Grade Supply List
Pocket folders
Notebooks
Dry erase markers
Pencils
Pencil top erasers
1 ½ -2 inch 3-ring binders
Clip boards
Hand sanitizer
Liquid soap
Scotch tape
Water color markers
Colored pencils

Post-it notes
Kleenex
Fiskar scissors
Glue sticks
Highlighters
6th Grade Supply List
Pencils
Pencil top erasers
Folders
Highlighters
Markers
Colored pencils
Dry erase markers
Glue sticks
Scissors
Kleenex
Single subject notebooks
Sorry, but there was nothing found. Please try different filters.